Regular price
$33.99 USD
Sale price
$28.99 USD
Unit price
per
Sale
Sold out
Personalize your Extra Chunky Grips – 80 Grams, 34mm installed diameter
You will be emailed a mock-up of your design after your order has been submitted. Once your mock-up is approved, please allow 7 business days for production.
Logo designs must be emailed to support@esigrips.com after your order is placed. Logo requirements are listed below.
IF YOU ARE ENGRAVING A LOGO, WE CANNOT ENGRAVE TRADEMARKED BRANDS/LOGOS UNLESS YOU OWN THE RIGHTS TO THE IMAGE. YOU MUST EMAIL YOUR LOGO FILE AND ENSURE IT MEETS THESE REQUIREMENTS:
MAX LOGO SIZE: 17mm x 100mm.
LOGO FILE FORMAT: Prefer vector files in black and white, or high resolution JPG.
EMAIL LOGO FILE TO: Support@ESIGrips.com
YOU WILL BE EMAILED A MOCK-UP OF YOUR DESIGN AFTER YOUR ORDER HAS BEEN SUBMITTED. ONCE YOUR MOCK-UP IS APPROVED, PLEASE ALLOW 7 BUSINESS DAYS FOR PRODUCTION
---
The ESI Extra Chunky grips are the thickest available!
80 Grams
Standard Grip Length – 5 1/8″
Installed Dia. 34mm
Weight plus or minus 5%
Made for 22mm bars (can fit applications down to 19mm)
Bar Plugs included
*Install Bar Plugs first for the protection of grips and ease of installation
* Colors may vary from screen to screen. NOTE: Our Black is a dark charcoal gray.
Benefits of Silicone

Made in the USA

Latex and Rubber Free

UV Resistant

Non-porous

Won't crumble or spin

Tacky in all weather conditions
Dimensions

Standard Grips are 130mm in length

Made for 22mm bars (can fit applications down to 19mm)
Installation Instructions

Install bar plugs prior to the grips. Use a generous amount of evaporative liquid like isopropyl alcohol or hand sanitizer. Stand on opposite side of bike and pull grips onto bar with towel quickly. Watch here
Crash Replacement Program

Did you damage your ESI Grips within 30 days of purchase? Fill out our contact form to receive information on our crash replacement program! *Only available in the USA
Share
View full details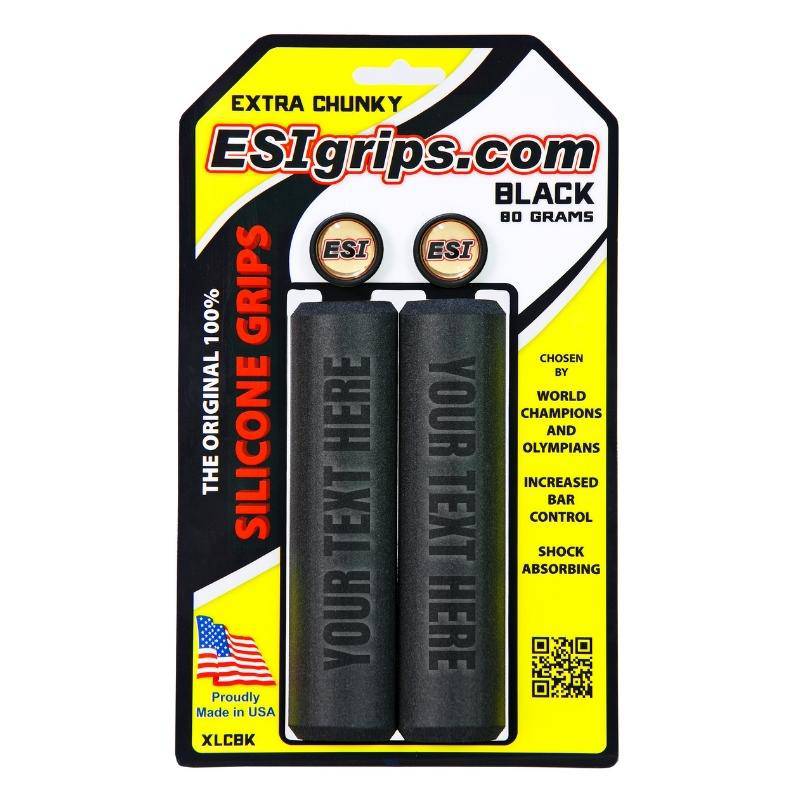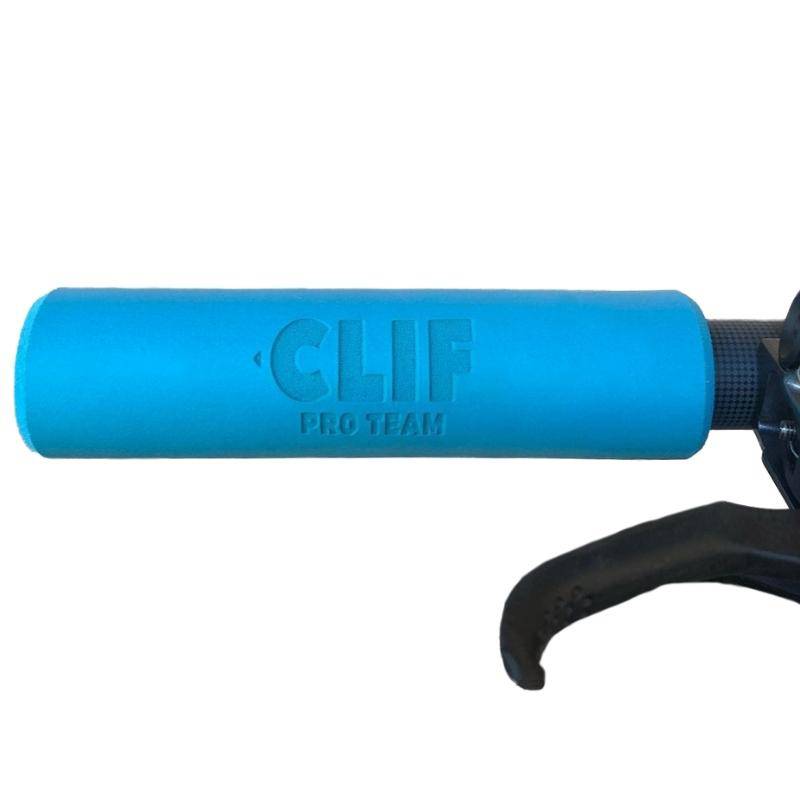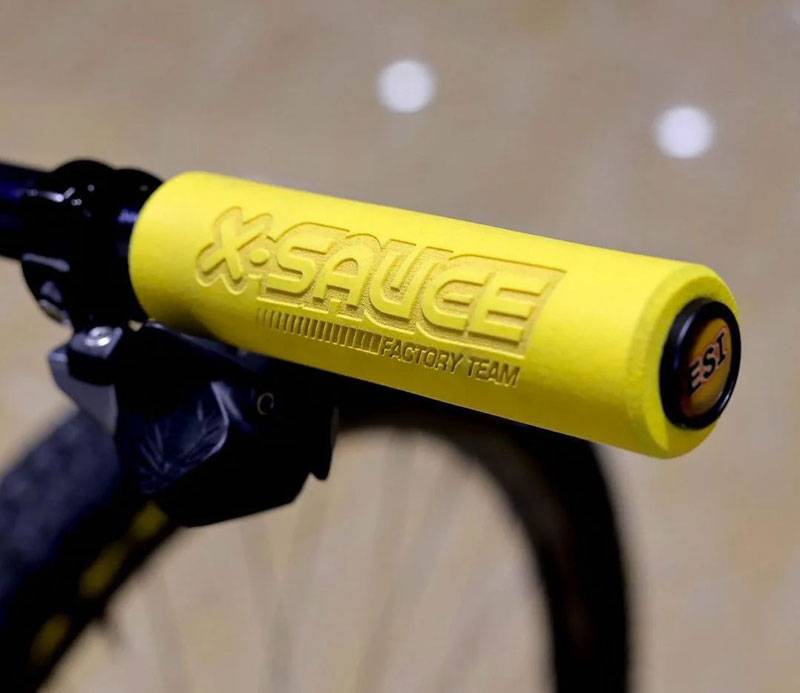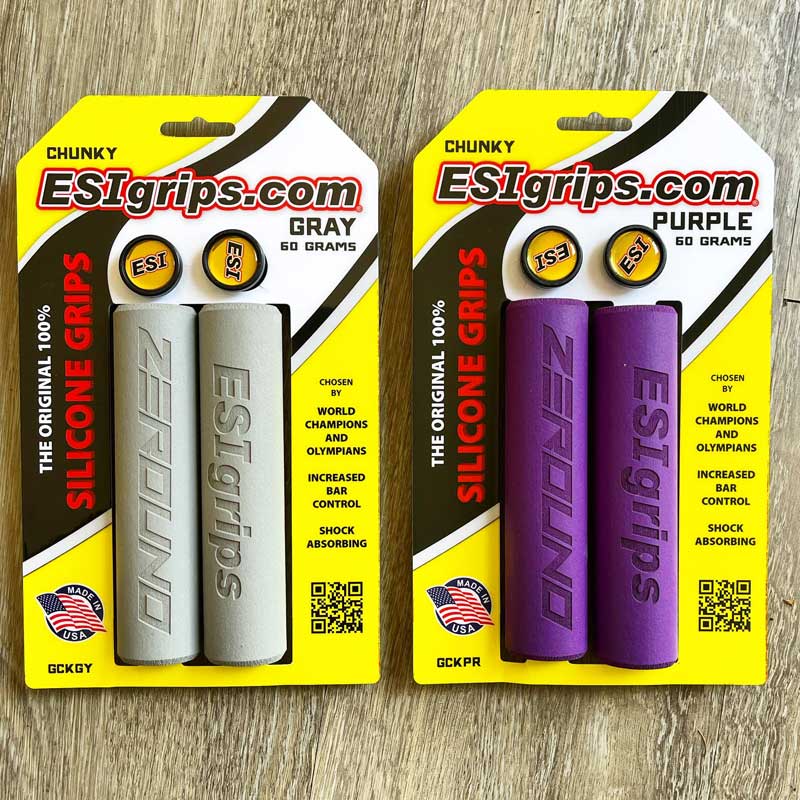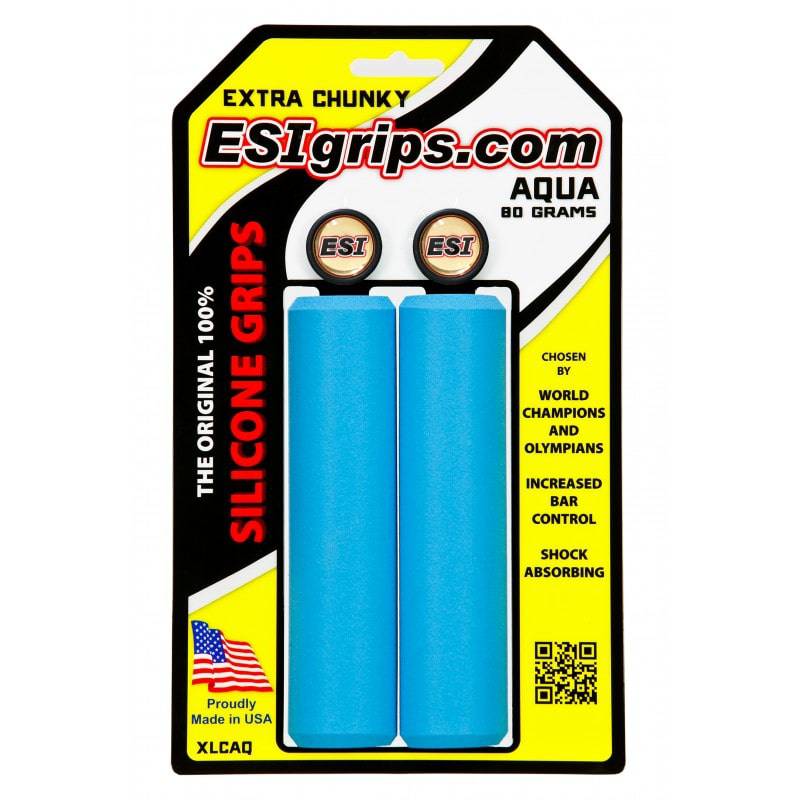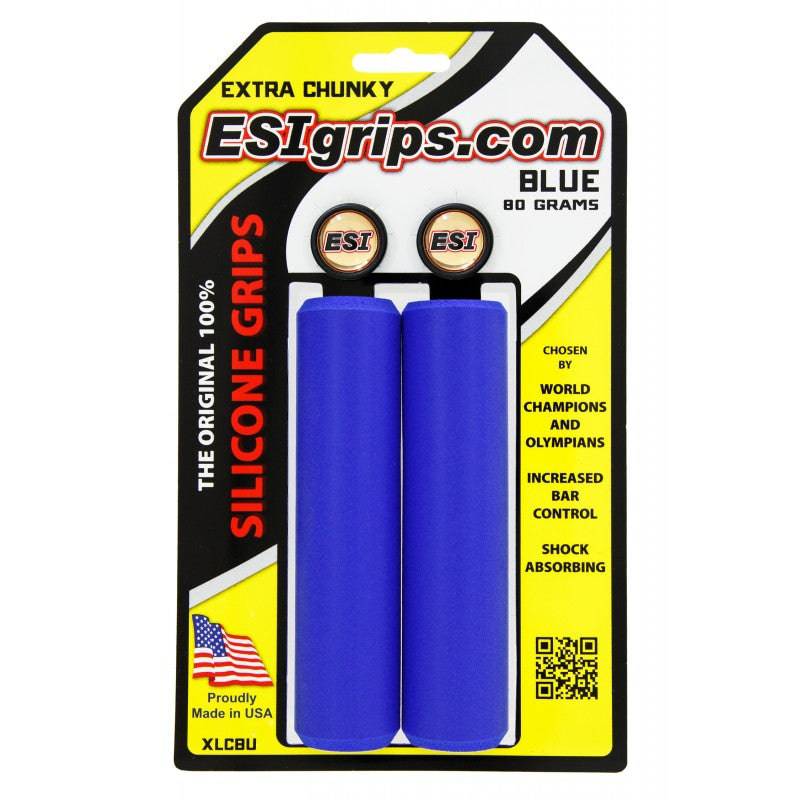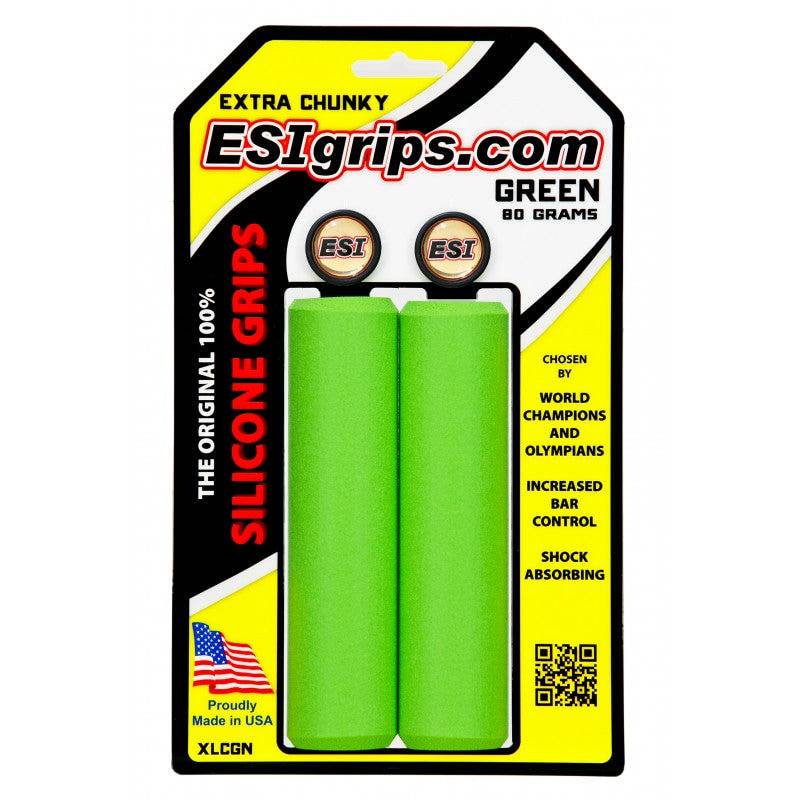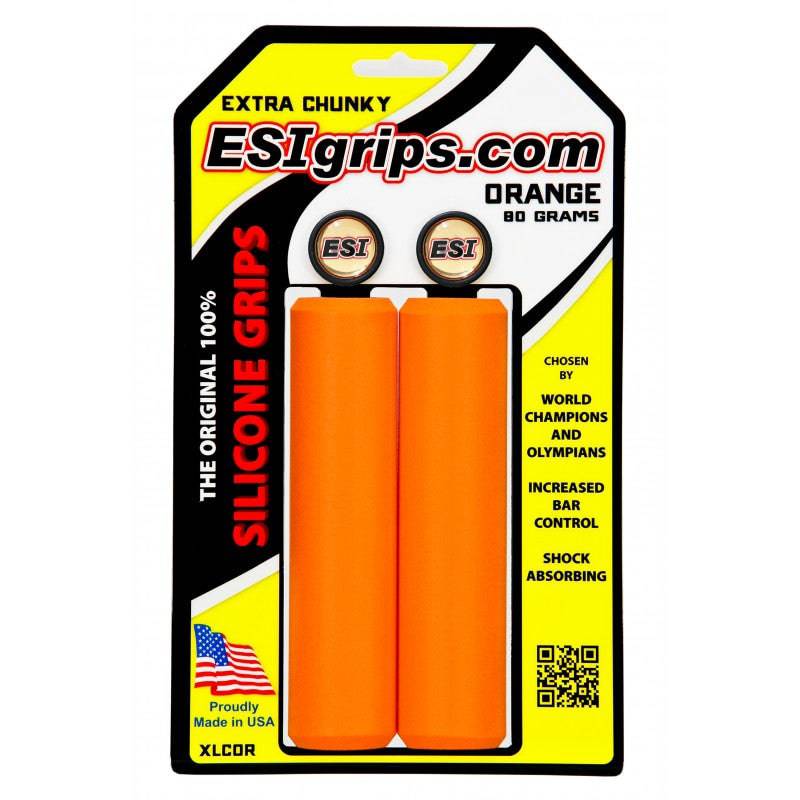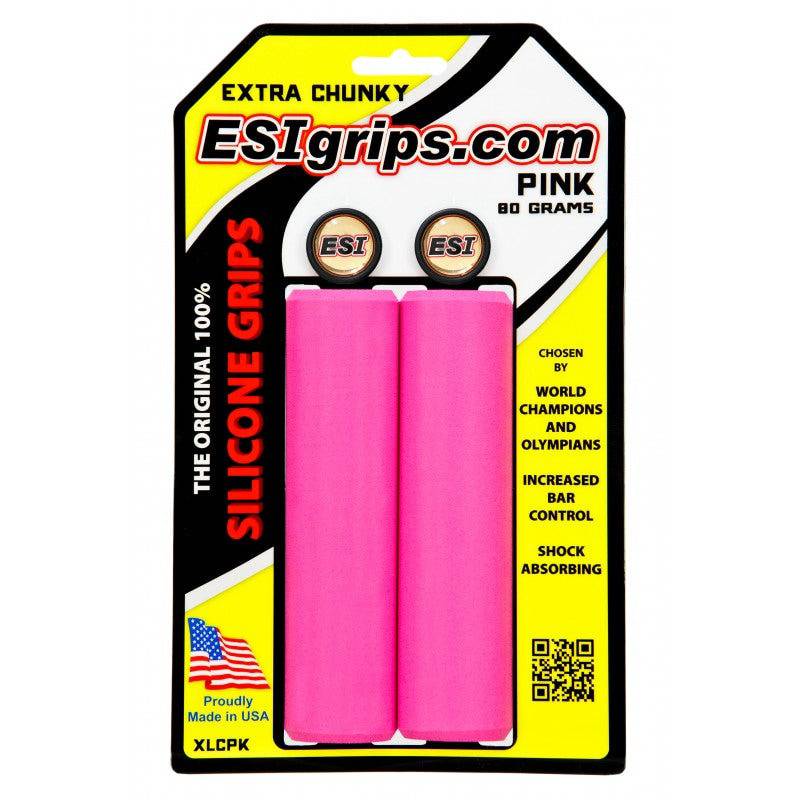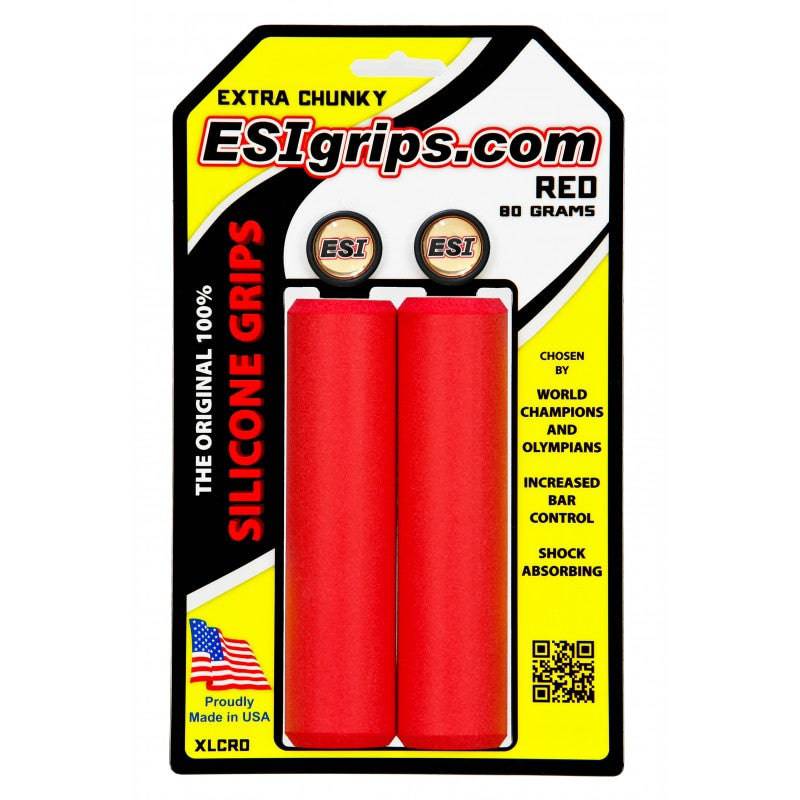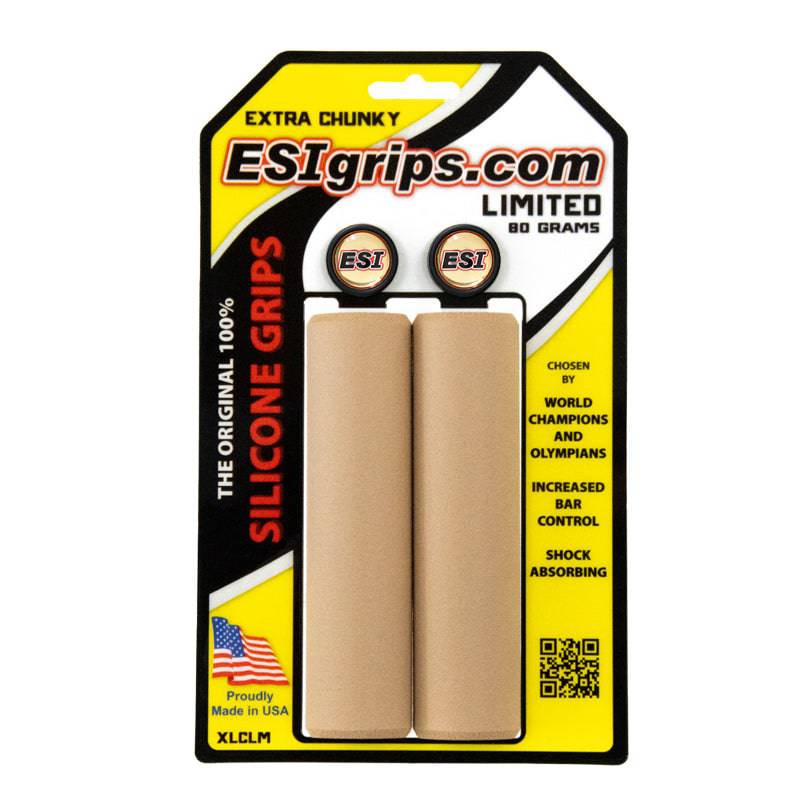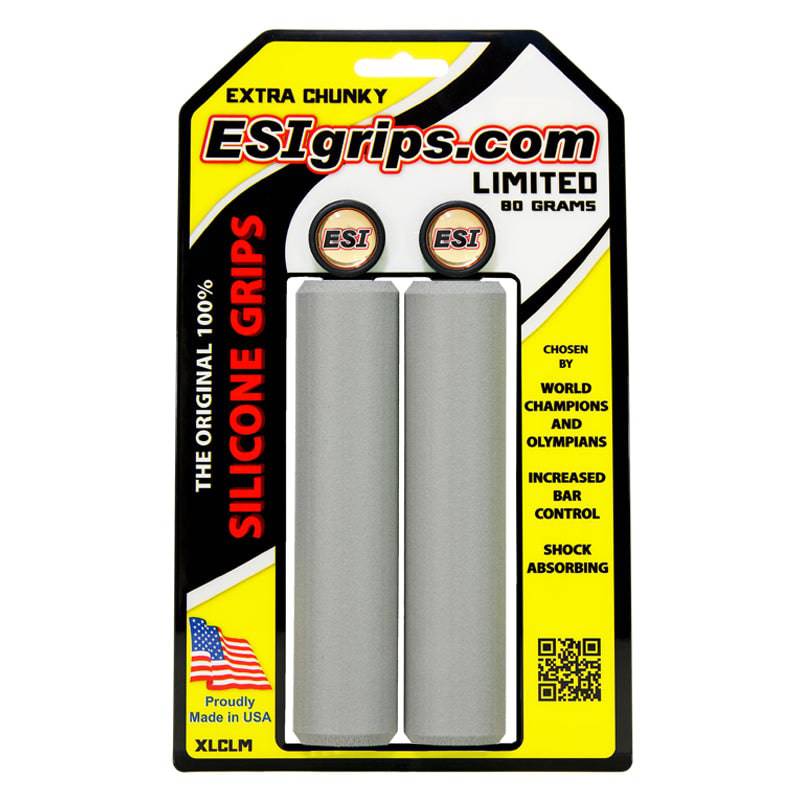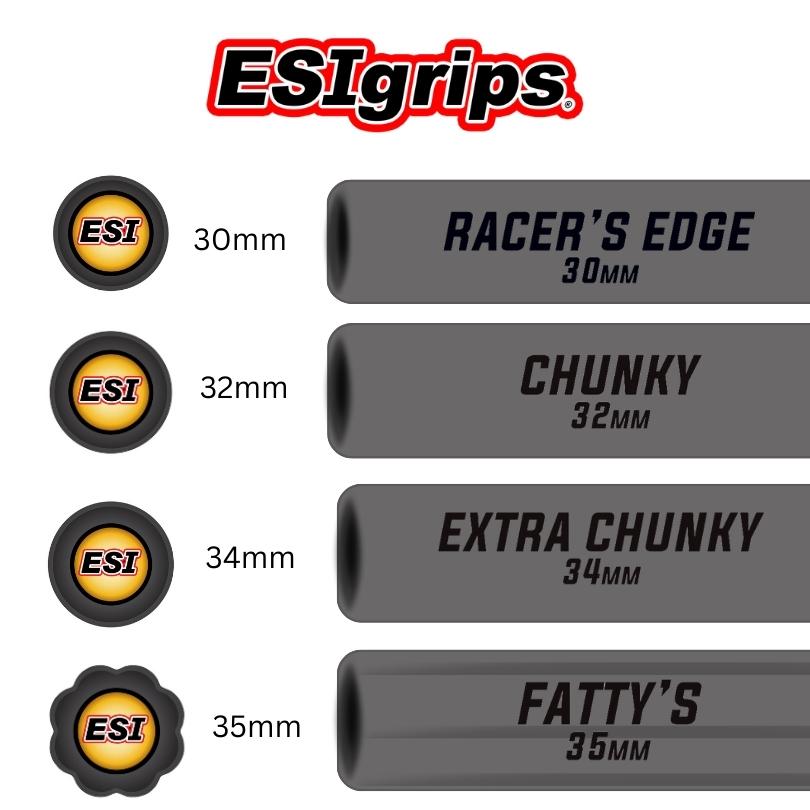 WHAT'S THE DIFFERENCE?
Thickness of your grip is personal preference. Our grips have a wide range of sizes from our thinnest grip (Racer's Edge) to our thickest grip (Fatty's/Plush) to match all hand sizes and comfort levels. Check out our full Sizing Guide below!
SIZING GUIDE
Custom Engraving - Extra Chunky
I love my custom grips
It is so encouraging to look at my bike and see my mantra looking back at me from by bars! Plus, the comfort of the ESI extra chunky grips is in no way diminished by the engraving, so my hands are happy too!
Custom Engraving- Extra Chunky
Chip here...the custom engraving on my extra chunky grips are an awesome addition to my fat tire mountain bike. The GRIPS offer a comfortable feel for my hands when riding all types of trails. Thank you ESI.
Custom Engraving - Extra Chunky
Proper Installation
Install bar plugs prior to the grips. Use a generous amount of evaporative liquid like isopropyl alcohol or hand sanitizer. Stand on opposite side of bike and pull grips onto bar with towel quickly. Watch here
Free Shipping

Free Shipping on orders over $35 with code FREESHIPPING

Crash Replacement Program

Did you damage your ESI Grips within 30 days of purchase? Fill out our contact form to receive information on our crash replacement program! *Only available in the USA

Fill Out Form Here