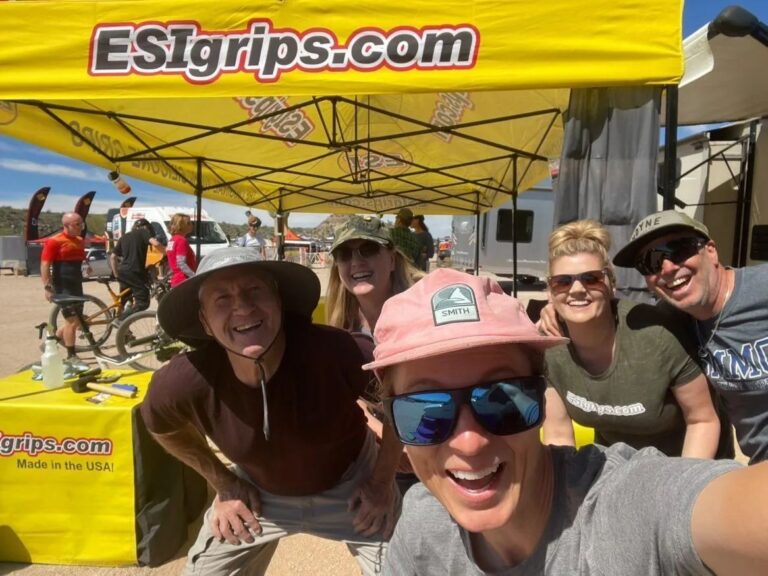 About ESI
ESI (Extreme Steering, Inc.) is located in Northern Arizona and we are proud to have all our products being made right here in the USA. Established in 1999, we have spent over 20 years providing superior products for the bicycle industry. Through new product development, ESI offers unique, high tech, quality products MADE in the USA followed with exceptional Customer Service! We are the original and ultimate Silicone Grips chosen by champions!
Meet Our Family!
Read all about ESI Grips, how it was founded and why we do what we do! ESI is located in Northern Arizona and we are proud to have all our products being made right here in the USA. Established in 1999, we have spent over 20 years providing superior silicone products for the bicycle industry.
CEO AND FOUNDER: GARY STEWART 
Gary has a professional background as Aerospace engineer. He has 30+ years in Aerospace with experience in programming and operating all CNC machines in the field (Lathes / Wire EDM / Mills / ID OD Grinders / Saws /etc), designing and building all machine fixtures in his division, obtaining a Patent in Aerospace (finalized in 1997 for a proprietary Aerospace Fastener Design) and starting in the 1970s as a machinist running conventional machines and working his way up to Designing, Building and Operating an Aerospace Tooling Division.
It is no surprise that Gary has a need for speed, which led him to creating ESI! Here is how he started:
ROAD MOTORCYCLES:
Riding since 21 years old; 2 years of racing; Raced a Yamaha 2 stroke Road Racing Motorcycle at Willow Springs, CA; Used a Linear stabilizer – 2 units on one bike; Benefits of the Stabilizer – Eliminated high speed wobble and increased cornering stability; Stopped racing in 1990 and started pursuing mountain biking.
DIRT BIKES:
Riding since 22 years old; Raced 2 years; Rides an Enduro; Raced at Hair and Hound Scrambles.
MOUNTAIN BIKES:
Riding bicycles since 5 years old; Rode to school on a unicycle and bike (Not at the same time); Racing from 1995 to present; Races in California; State / Am-Cup / Rim Nordic / Southridge / Sea Otter and as many Nationals as he can.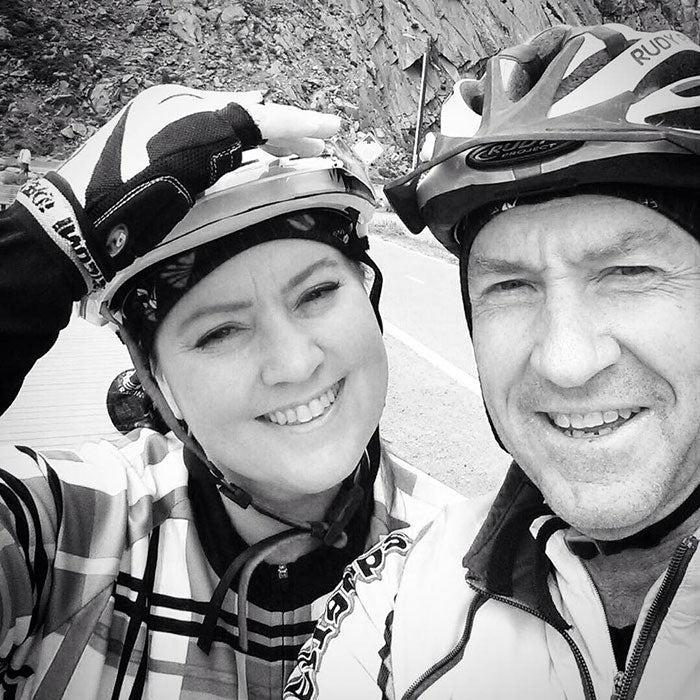 Sales Director: Maria Stewart
Known as the "wifey" of CEO Gary Stewart, Maria is equally important to our company! Her exceptional customer service puts our customers first.
Aside from her awesome sales service, Maria is also a master at designing and CAD work. She helps ESI bring their dreams to paper! Seven days a week you will find Maria and Gary working on something for ESI Grips, whether it is in the shop or at local races!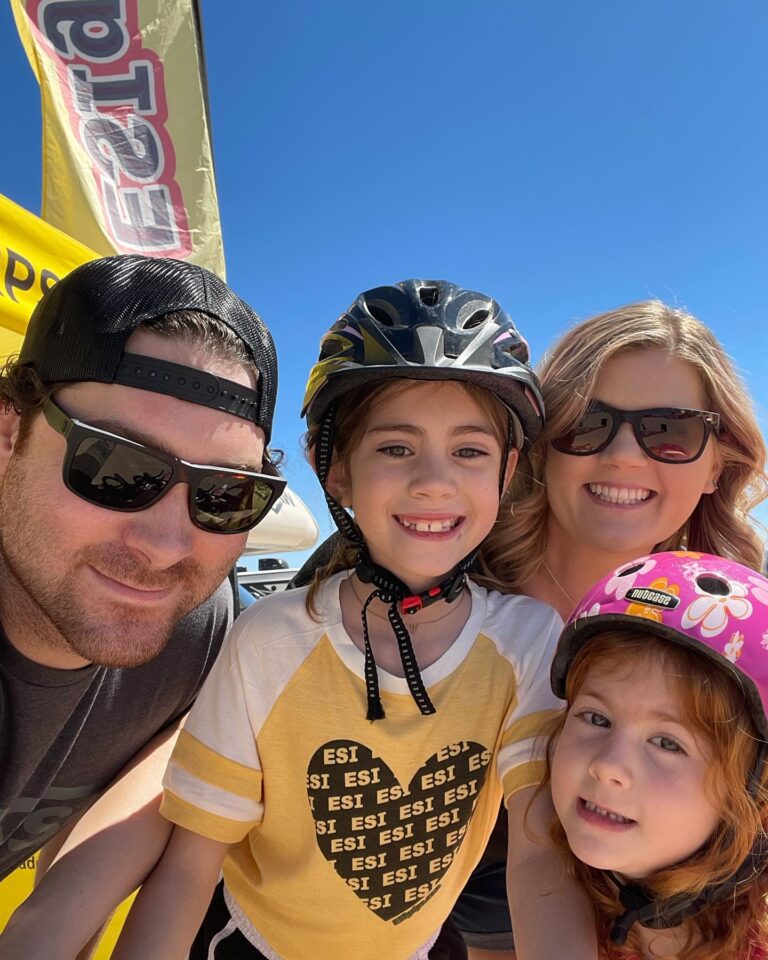 Media, Marketing & Sponsorships - CMO Anastasia
The daughter of Maria and Gary, Anastasia was raised at ESI Grips since the age of 10. As an adult, she began working alongside Gary and Maria from a small shop all the way to their now 6th facility! As an artist, she plays a role in the design and layout of ESI Grips as well as all Media. Anastasia also runs the ESI Grips Sponsorship Program. As a team of 3: Gary, Maria and Anastasia work together constantly with everything that comes out of ESI Grips! Her two daughters now come to events like she did as a small child.
About our Products
WHY ESI WAS CREATED: THE CREATION OF THE STABILIZER

ESI stands for Extreme Steering Incorporated. In 1991 Gary began developing a product known as the "Stabilizer". This product would be used to help with speed and cornering stability for mountain bikes.Extreme Steering Inc officially became a company in 1999. The Patent for the Stabilizer was finalized in 2002. Although it is currently off the market for re-designing, you may see it again on the market!
WHY GRIPS? THE CREATION OF ESI MTB GRIPS

While prototyping and designing the Stabilizer, Gary spent many hours on his bike. During this time he noticed the pain in his arms and hands increasing. As a natural inventor and problem solver, Gary immediately decided he wanted to alleviate this problem. "While working in Aerospace I ran across a material on an application that I was working on. It was perfect. It was non-porous and withstood severe temperatures and climates. Any condition you would throw at it wouldn't affect it. Best of all, you got extreme shock absorption. I had to have that on my bars. So began my next mission to design the perfect mountain bike grip made of Silicone!I had no idea that there were so many racers/riders that had the same issues with grips that I did (other grips were hard, uncomfortable, spinning, heavy, deteriorating, etc.). Who would have thought that the simple concept of lightweight, shock absorbing grips with no glues (along with the idea that logos at the end of your bar and tread patterns on your tires – not on your grips) would be accepted by racers/riders across the world!" – Gary

Thus in 2003 ESI Grips was born.
ROAD GRIPS? THE CREATION OF UNWRAPPED

As soon as the word spread about our MTB Grips, riders soon began requesting the same benefits for their road bikes.As soon as the word spread about our MTB Grips, riders soon began requesting the same benefits for their road bikes."ESI Road Grips were created because of the constant requests by racers that use ESI MTB grips. Many MTB riders cross train on road bikes and would continually ask me to come out with road grips. I believe you can't make a superior product unless you actually use that product; so I went out and got myself a road bike. After a year of testing not only did I come out with superior road grips, but I love cross training on my road bike. Thanks to my friend Terry Martin I am now doing Triathlons when I am not racing Mountain Bikes." – Gary"Unwrapped"refuse to be unraveled! The name describes the grips. These grips do not unravel, soak up sweat or get stinky. They are washable and shock absorbing.These grips are great for: Road / Cyclocross / TT bars / Aero Bars / Bull Horn Bars / etc.
ROAD WRAP? THE CREATION OF RCT WRAP

While some riders loved the solid piece model of our Unwrapped ESI Grips, installation was quite difficult. Thus was the creation of our very own, unique Silicone Wrap. Our RCT Wrap was thoroughly designed to yield some very unique traits.This "wrap" is glue/adhesive free. Since Silicone is naturally tacky, the silicone stays wrapped extremely well without nasty glues that stick to your bars long after your tape is gone. This wrap can be cleaned, laid out and rewrapped on the opposing side; offering a 2nd life out of your grips! With special patent pending opposing bevels (Patent No. D730,146), our wrap offers a seamless finish. Since silicone is so durable, you can pull our wrap tightly for a thinner wrap, or lay it thicker for more cushion. Our incredible finishing tape is also 100% silicone and glue/adhesive free!
WHAT'S THAT FINISHING TAPE? THE CREATION OF ESI GRIPS SILICONE TAPE

It didn't take riders long to notice the unique sturdy tape that was coming with their RCT Wrap. Soon, ESI Grips would partner with a long-time supplier to bring this Silicone Tape to the cycling industry. This silicone tape only sticks to itself or other silicone, it is military grade, and comes in a full line of colors. It's uses are endless on and off your bike!
A PERFECT FIT: THE CREATION OF FIT GRIPS

Our latest invention! FIT Grips were created by Gary because he wanted an ergonomic shaped grip for a more natural feel. This grip is completely unique in it's design and manufacturing. Our latest invention! FIT Grips were created by Gary because he wanted an ergonomic shaped grip for a more natural feel. This grip is completely unique in it's design and manufacturing. "I always wanted my thumbs to be rotated forward into the handlebar and my hand canted down towards the stem of the bike; this just seemed to be the more natural hand position for me. After I talked to other riders, they seemed to feel the same way. FIT Grips give you that natural holding position and you receive incredible handlebar and braking control from them!" -Gary

This product is patent pending